Co se týče našich ostatních párů – harrisové Shaka a Harry nám včera ukázali kolik mají vajec a je jich celkem 6, což je úžasné na jejich vůbec první snůšku.
Sovice sněžní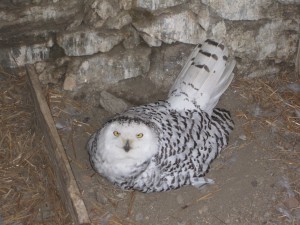 již taky sedí, ale samice sedí jak přilepená, tak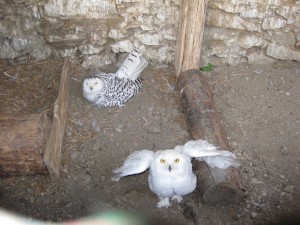 že nevíme kolik vajec tam má. Samec statečně brání hnízdo, nechceme je zbytečně rušit.
Poštolky taky sedí – počet vajec 5.
U rarohů máme jedno mládě a vypadá to na samce.
Další nová "tvář" v naší škole je samec sokola stěhovavého "Scotty" . Je to malý čipera a těším se až ho budeme cvičit.
Orlice "Andulka" (orel skalní) je u nás též nová. Je jí 8 let a nyní ji rozlítáváme. Je to už druhá orlice v naší sokolnické škole. V loni jsme pořídili mládě orla skalního – orlici "Kirgu", která působí hlavně na letišti při výkonu biologické ochrany. Je to velice úspěšný lovec a fotky z loveckých setkání budou již brzy v naší fotogalerii.